More progress. I've attached a snapshot of the non-rendered 3/4 view so you can see the polygon dot grid. The only technique I've figured out so far is to place the dots at the surface points and bridge them to create the polygons. And yes, I've placed each one of those dots myself.
This is what it looks like rendered:
I need to fix the hood placement; I made changes to the upper front based on what it looked like in 3D. I created the hood as a separate element so I could make two versions; one without the louver vent and one with.
The side view is starting to look pretty good.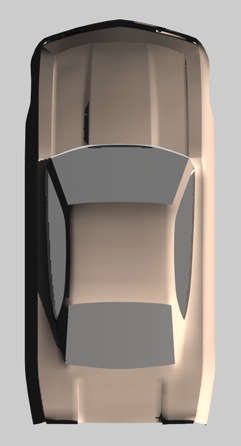 A lot of this 3D work I'm designing as I go since my 2D renderings weren't adequate. Wheels are next or at least the tires so I can use them as reference points for tweaking the body panels.