#16 Ridge Motorsport Park - May 23, 2023

Without Chicane 1:43.22 (PDR)

2019 Camaro ZL1 1LE - first outing
I wasn't sure if I was going to start a new thread for this car, but for at least the first few outings, I'll keep the ZLE updates in here as well. I'll add another post about the differences between the SLE and the ZLE...very fascinating and the data is amazing.
My goal this week was to do 3 half days to shakedown the car, but ended up only being able to 2 sessions of the first day. (more later as to why) I picked the car up from all the updates/servicing, drove it home to pick my gear and then headed right to the track. Conditions were amazing with 65 degree weather and a light turn out for the evening session.
First, let me go through what the car has and what was done to it.
2019 ZL1 1LE M6 - 15K miles
- MCS 2 way coilovers
- APR Wing
- Half cage
- Rotofab/Cat back - Tune
Updates/Service items
- All fluids changed
- APR front studs
- Giro front rotors/Ferodo 3.12 pads
- New OEM rear rotors/ Ferodo 1.11 pads
- Airbag light fixed
- BMR rear toe and upper control arms
- Updated Alignment (-3.5/-2.5)
- Lift pads
- Intercooler bleed
- Weapon X Intercooler
- New rear 3Rs
- Worn front 3Rs
- Baseline MCS clicker setup (FR C-8 R10 / RR C8 R?)
Session #1
I decided to run the car with the PTM in Race, as I didn't know the car yet. First impression was the front of the car was very loose under acceleration and the car wandered....a lot. Very much a characteristic of the cold 3Rs..but this was a bit sketch. It got a bit better as the tires warmed up, but I knew I needed to add some rebound in the front. I ended going .01 faster than my best ever SLE lap time, but not thrilled with the front of the car handling wise. Initial impressions were:
- Strong motor, but not crazy fast.
- Amazing brakes
- Extremely good rear grip
- Better clutch than the SLE
- The transmission shifted easier and the ratios worked much better.
- Pretty severe understeer in long radius corners.
Session #2
I bled the tires down, added rebound to the front, as well as took out a little compression to get the front to stay down. Immediately, much better and I was rewarded with some solid 43s included a PB of 43.22 (PDR) and 43.29 (AIM) With the TC on, I could basically drive it the same as my SLE and pretty much did just that. I did have to wait on the front to regroup after the front tires went away, I turned the TC off and started to build into a pace and was tracking another low 43 when the car went into limp mode...Limp mode as in, it idled, but would respond to the gas pedal and I had to be towed in. Bummer, but overall pretty happy.
When I bought the car, I knew it had a history of this, but it only happened on track and until it failed, I didn't know what it could be. The codes were: P018B and P2635 - both relating to fuel pressure. I cleared the codes and it fired right up. So that was that.... 2 sessions, a PB and now to figure out the limp mode issue. I was also hoping to try it with the square setups, but that will have to wait.
For context, here are a few screenshots.
1) ZLE vs SLE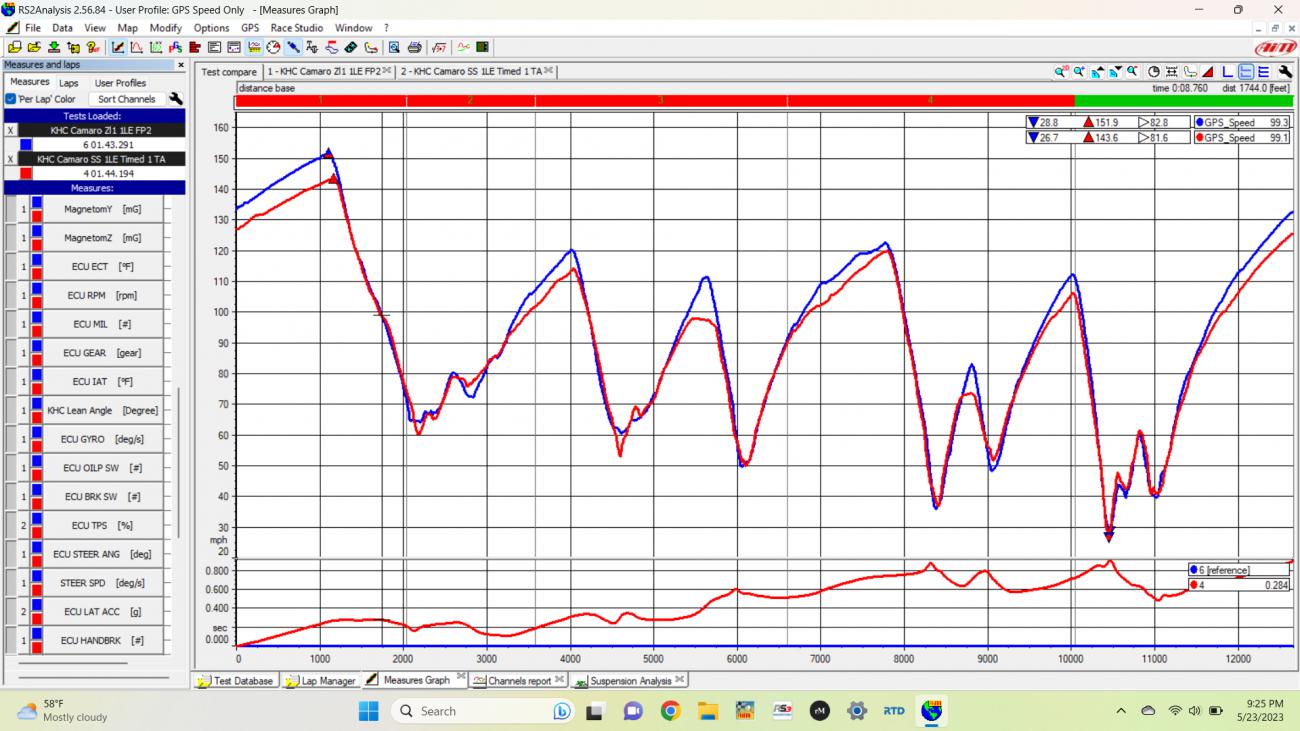 2) Lap times from last week's On Grid Time Attack. We would have been #2 overall on shagged front tires. Very happy and the car is going to be a monster.
Next up is in an in depth comparison.