2016-2019 Camaro SS And ZL1 AWE Touring Edition Axle-Back Quad Tips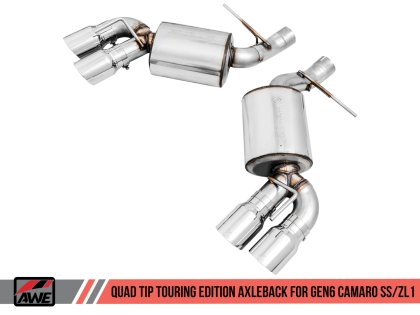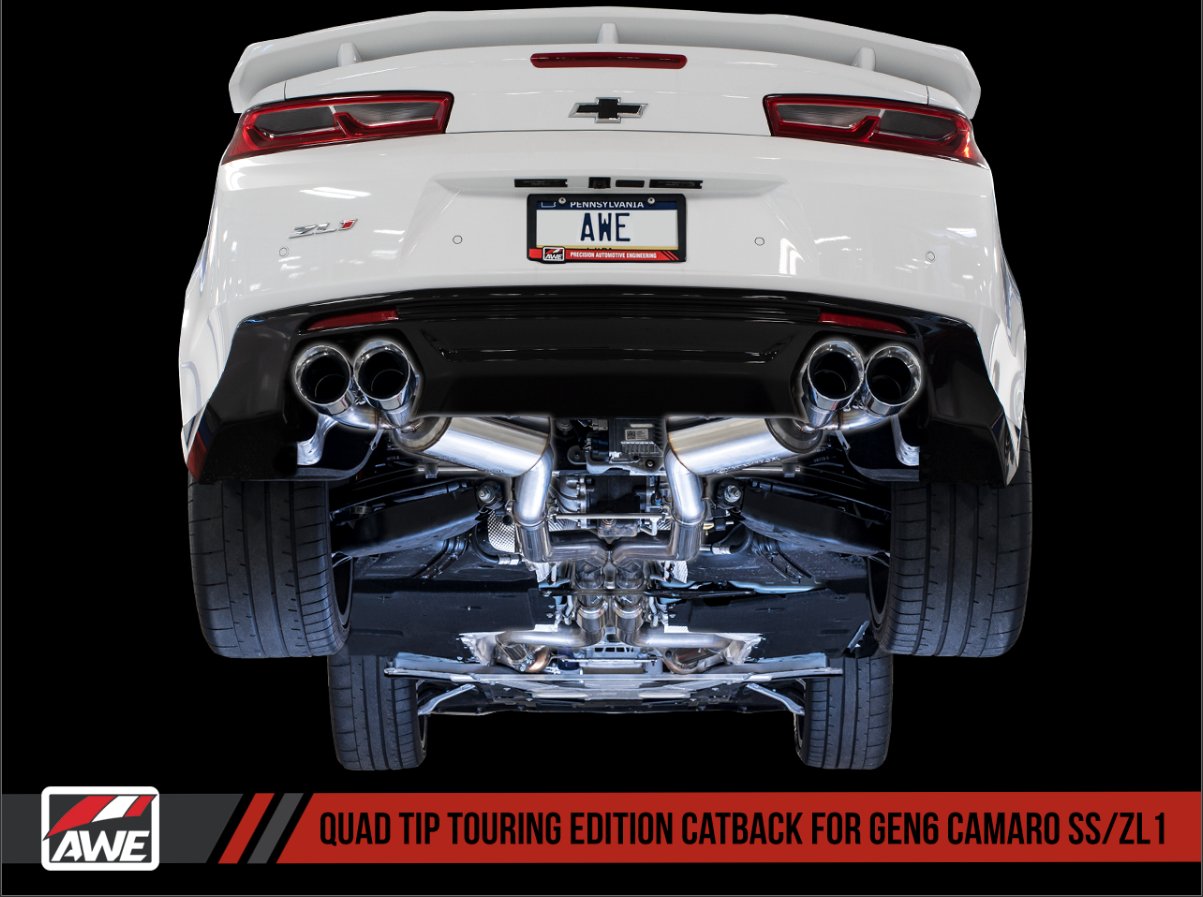 Built of 304 Stainless steel this 2016-2019 Camaro SS AWE Touring Edition Axle-Back Dual Tips is a great sounding upgrade for your Camaro. This cat-back exhaust system is 3" system for maximum power and exhaust flow. Replacing your factory muffler with these AWE mufflers will save weight and give your Camaro a bold new sound. These quad tip mufflers fit perfectly into the factory rear valance for a factory look.
AWE's Exclusive 180Technology
As exhaust gases exit the Camaro SS' 6.2L engine and flow into an AWE 180 Technology® equipped resonator, they pass through strategically located ports, and into reflection chambers. Sound waves, carried by these exhaust gasses, bounce off the walls of the reflection chambers. By controlling the size and location of the ports and the chambers, we also control when the sound waves exit the chambers. The specific timing of when the reflected sound waves rejoin the main exhaust flow creates a one-hundred-and-eighty-degree out-of-phase sound wave that cancels out problematic frequencies. Call it science, call it magic, or call it 180 Technology® by AWE.
Features:
● Proudly engineered, designed, and manufactured in-house, in the USA
● No compromises: all muscle, zero drone
● Peak gains of 11 hp and 5 ft-lbs of torque, and max gains of 16 hp and 10 ft-lbs of torque to the crank
● Touring Edition features AWE's proprietary straight-through drone-canceling solution, 180 Technology®
● Handcrafted from 3" U.S.-sourced CNC mandrel-bent .065" wall T304L stainless steel
● Precision-engineered X-pipe is standard in each catback configuration
● 4.5" double-walled tips in chrome silver or diamond black
● Less is more: clean, non-baffled, straight-through design maximizes performance
● Direct bolt-on system means factory-like simplicity
● No Check Engine Light -- Guaranteed
● Perfect Fitment -- Guaranteed
● Featuring the AWE Lifetime Exhaust Warranty
AWE cat backs will not fit Camaro Convertible models of any type.
Fitment: 2016, 2017, 2018, 2019 Chevrolet Camaro SS