6.2 liters of hell yeah! Presenting the AWE Exhaust Suite for the Gen6 Camaro SS (click here to be taken to the thread with links to pricing information):
Proudly engineered, designed, and manufactured in-house, in the USA
Quad tip, catback and axleback. Options for all
No compromises: all muscle, zero drone
Available as sophisticated Touring Edition or the raucous Track Edition
Peak gains of 9 hp and 10 ft-lbs of torque, and max gains of 22 hp and 24 ft-lbs of torque to the crank
Touring Edition features AWE's proprietary straight-through drone-canceling solution, 180 Technology«
Handcrafted from 3" U.S.-sourced CNC mandrel-bent .065" wall T304L stainless steel
Precision-engineered X-pipe is standard in each catback configuration
4.5" double-walled tips in chrome silver or diamond black
Less is more: clean, non-baffled, straight-through design maximizes performance
Direct bolt-on catback systems when paired with Performance Link Pipes
No Check Engine Light -- Guaranteed
Perfect Fitment -- Guaranteed
Featuring the AWE Lifetime Exhaust Warranty (one year on tip finishes)
-----
AWE catback systems will fit Gen6 ZL1 Coupes with manual and automatic transmissions.
AWE catbacks will not fit ZL1 Convertible models of any type.
The Touring Edition Exhaust
Touring Edition Catback:
A straight through design, the AWE Touring Edition Exhaust is a full 3" T304L stainless steel configuration featuring a precision-engineered X-pipe that brings out a smooth, yet ultra-aggressive muscle tone with no drone throughout the entire range thanks to AWE's 180 Technology«. The AWE Touring Edition Exhaust is available with resonated or non-resonated mid pipes.
Sound Perfection: 180 Technology« by AWE.
As exhaust gases exit the Camaro SS' 6.2L engine and flow into an AWE 180 Technology« equipped resonator, they pass through strategically located ports, and into reflection chambers. Sound waves, carried by these exhaust gasses, bounce off the walls of the reflection chambers. By controlling the size and location of the ports and the chambers, we also control when the sound waves exit the chambers. The specific timing of when the reflected sound waves rejoin the main exhaust flow creates a one-hundred-and-eighty-degree out-of-phase sound wave that cancels out problematic frequencies. Call it science, call it magic, or call it 180 Technology« by AWE.
Touring Edition Axleback:
In axleback form, the AWE Touring Edition Exhaust retains the SS' factory mid-section, coming in right at the rear axle. The axleback AWE Touring Edition Exhaust maintains a 3" diameter, shaves weight from the rear, and features AWE's drone-canceling solution, 180 Technology«.
The Track Edition Exhaust
Track Edition Catback:
If raw and rowdy are your speed, the catback Track Edition is your dose of steel. The loudest of the lot, the AWE Track Edition Exhaust retains all the engineering and precision of the Touring Edition Exhaust, including the X-pipe and 3" diameter tubing, minus the 180 Technology«. The result? Completely raw wake-the-dead level muscle. This version, like the Touring Edition, is available with resonated or non-resonated mid pipes.
Track Edition Axleback:
The AWE Track Edition Exhaust in axleback form provides the most cost-effective aggression in the lineup by retaining the SS' factory mid section and replacing the rear sections with Track Edition straight pipes.
Please note: This version is known to get rowdy (like, really rowdy), and may be too much for many.
Performance Link Pipes:
AWE Performance Link Pipes provide an increase in volume by bridging the gap between the primary factory catalysts and AWE catback exhausts.
Please note: the Performance Link Pipes are for racing use only.
Important notes:
Please note that Track Edition Exhausts and Performance Link Pipes can not be returned for sound reasons--they're not for the faint of heart, so choose your weapon wisely!
Tip Options:
All tip options include the AWE logo and double-walling to ensure a mirror finish even under hard usage. All tips are individually adjustable, allowing depth into the bumper to be set according to personal taste.
4.5" slash-cut diamond black tips
4.5" slash-cut chrome silver tips
Dual to quad tip versions (or vice versa) will require a new valance. But you knew that.
*for visual reference, as seen on an SS.
Conversion Kits:
We made it easy to convert catbacks from a Track Edition to a Touring Edition, non-resonated to resonated, or vice vesa if you decide at a later date to turn it up or turn it down.
Volume guide: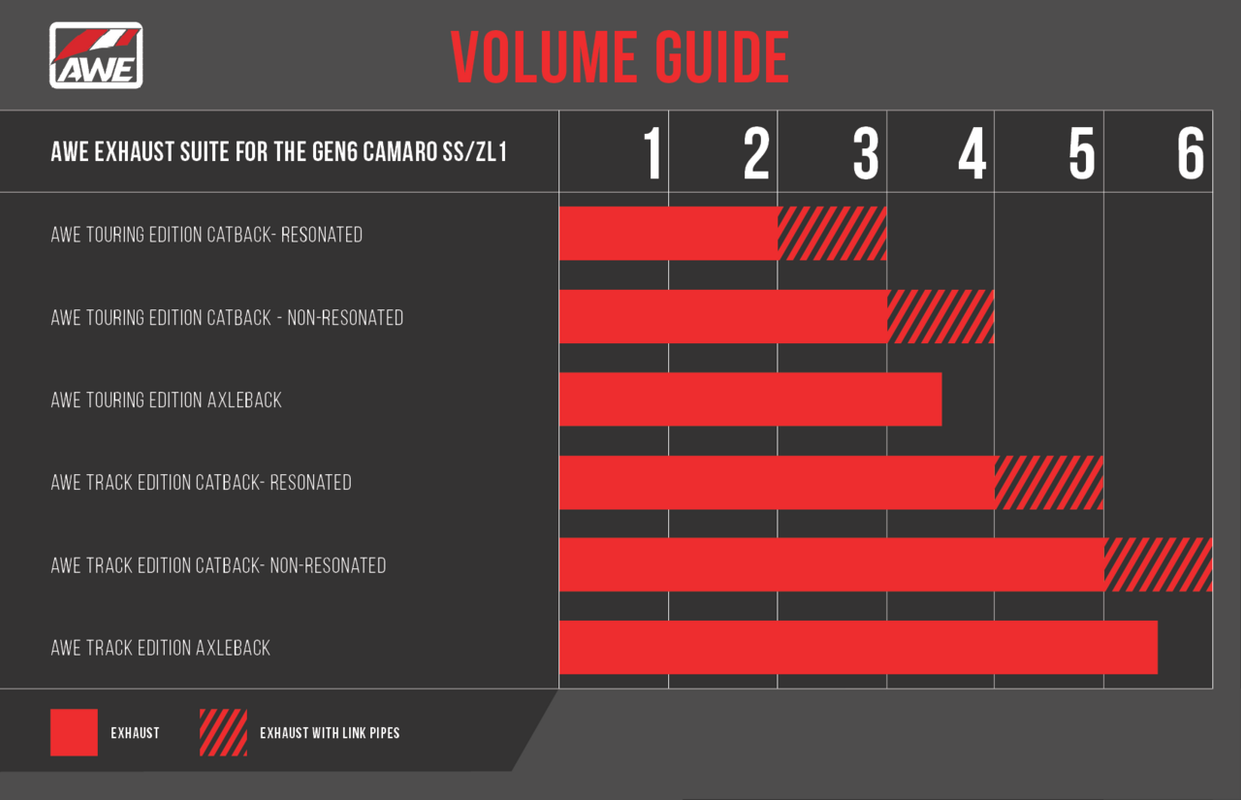 What's in the box?
Complete Touring or Track Edition Catback/Axleback, two or four 4.5" tips in desired finish, and all required installation hardware.
Data: