We will step in and clarify some of the false claims made here.
First, yes, 98% of all cans are made in China and may vary slightly in appearance but have the same ineffective internals.
These can be bought for $15 or so if in bulk, and if you look, some will have the "big names" already stenciled on to them. But, lets compare what the different designs of the internals do, and instead of asking opinions and getting all the conflicting opinions from those that are not engineers and do NOT understand proper crankcase evacuation. This is easy to do, but does take some time.
To test ANY catchcan, no matter what the seller claims, you will need 2 cans. One should be one proven to trap 95% plus of all that enters it not allowing more than droplets past and still ingested. So, this video shows this in EVERY detail, and anyone can duplicate this test. In this video, which the tech that put this out, was a promotional video for Moroso when the tech just showed the Moroso was catching oil (see his earlier videos). The best is to start at the 17 minute mark to see the final results, and then go back and watch the entire video documenting exactly how it is performed. All stages must be done equally and fairly and documented every step. When you do this, you quickly see 98% of all cans, even with the "big names" are mostly worthless installing on a GDI engine as they cannot tolerate any ingestion, and the next most effective design comes in at far less than 50%.
It does not matter what a can catches, it is what is let past that matters, and our patented design is unmatched period. And we state this publicly as well as offer the challenge test.
Now, lets look at why most of these cans, no matter the price, don't trap more than they do.
Here is an example of a common made in China for $15-16 and branded with any of dozens of brand names. Trap only app. 15-18% of what enters them and the rest is still ingested doing little to protect your engine:
and what do we find when the light paint is removed from the top?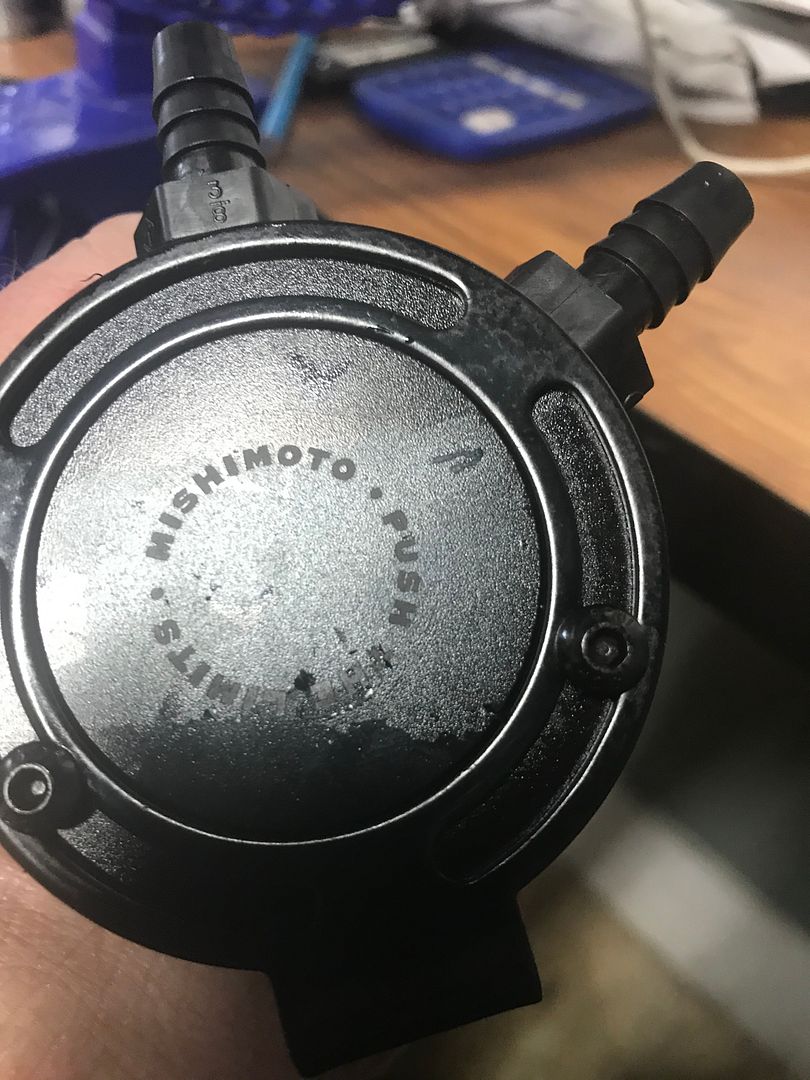 The funny thing is the instructions on what is the inlet and the outlets, they have them backwards so that makes it even less effective. We added the checkvalves. And this only hold 3 oz capacity.
Now the one from the video: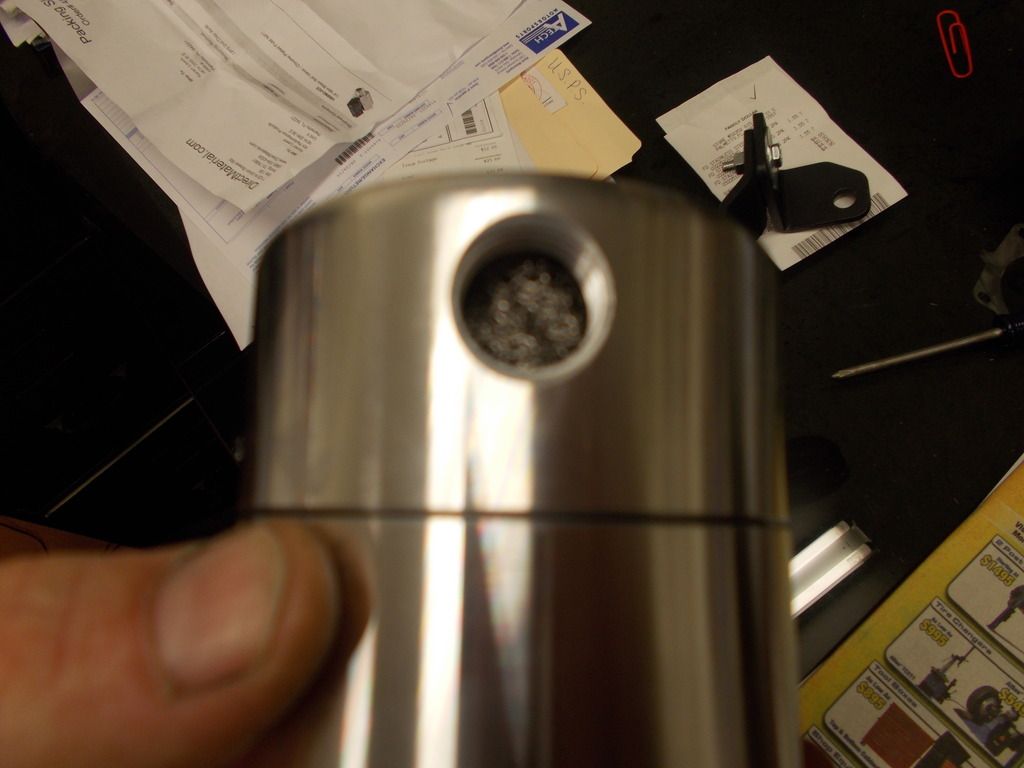 So if you follow this well known brand that some promote without telling you how poorly they work (again, watch the video showing the results) just to sell you one, here is why. Notice there is no designated inlet or outlet. The side you use as a inlet the media quickly becomes saturated and then the outlet side does as well. As the incoming vapors and the outgoing vapors both mix together in the can, and the media is tight against the openings, it is impossible for this design to trap much more than 20% allow the rest to still be trapped. And just looking in your intake is hardly a scientific way to judge a can, you need to be able to see first hand how much gets past the can.
And here are the results of another popular brand that charges a premium. Their results on the left, our E2-X design on the right.
Again, not even close.
Look inside the average can and try this. Get a clean washcloth wet to simulate the media in those cans. Place it to your mouth and suck on it. What happens? Water is sucked right out. Same happens with the oil and that suction is far stronger than a mouth on a washcloth. Look inside ANY can and see, all other designs the incoming oil laden vapors mix with the outgoing supposedly cleaned vapors. So it is impossible to trap much more than 20% of the total with far more still being ingested instead of trapped.
And again, We challenge ANY other can design to take the challenge conducted by an unbiased 3rd party and see. Not a small disparity, its not even close.
Then look at our R&D. NO other brand has worked with the industry labs as we have for in depth testing and design. In fact the Worlds most respected Lubrication lab spent 2 years and a substantial amount of money to purchase a fleet of GDI powered vehicles and done as much testing. And this is a benefit we never expected. As we are one of the ONLY can systems that provide FULLTIME evacuation (suction on the crankcase) oil stays cleaner longer as this long term test shows. This oil has over 13,000 miles on it. The engine is a twin turbo GDI engine making over 20# of boost. Read the lab techs comments (many here use Blackstone and can verify with them) on how the oil has stayed this contaminant free for this long, and the latest test is at 20k miles and looks as good. This you can also test and prove yourself instead of blindly following opinions without fact. Get an oil analysis done at 5k miles on your car. Then change oil and install our system, and do the same at 5k miles, and 10k miles, and if you want, 15k miles and you will see that same brand oil remain cleaner and more contaminant free at 15k miles than any other "catchcan" design at 5k miles.
So, our E2-X has close to 16oz capacity VS the average can at 3-5 oz.
Our Ultra system at over 20 oz. and our premium systems are designed for the GDI engines. And they do come standard with our billet checkvalves, Cleanside separator, and AN fittings.
So avoid the drama and the haters and the dishonest claims made by others just to sell and perform the tests yourself and see first hand.