How to do it:
1) Go to your build thread
2) highlight the URL of your build thread
3) hit CTRL + C (or go to Edit --> Paste)
4) Use Camaro_Corvette's DIY on how to make a signature (see below):
Quote:
Originally Posted by
Camaro_Corvette

This one is courtesy of moto-camaro! Thank you Moto!
Changing your signature!
see if this helps
my Illustrated Guide to Signature Uploads

i'll try this as simple as possible, screenshots galore

this is a huge post.
first: Click "User CP"
Second: Click "Edit Signature"
This is where you should be now
Third: Scroll down to here, 2 Choices now:
A) Click "Browse" if the picture you want is on your Computer
B) Enter Internet Photo Link if the image you want is on a website. ("linking")
Make Sure your picture falls within the signature rules in the green box
Fourth: find the image you want on your computer, select it, and click "Open"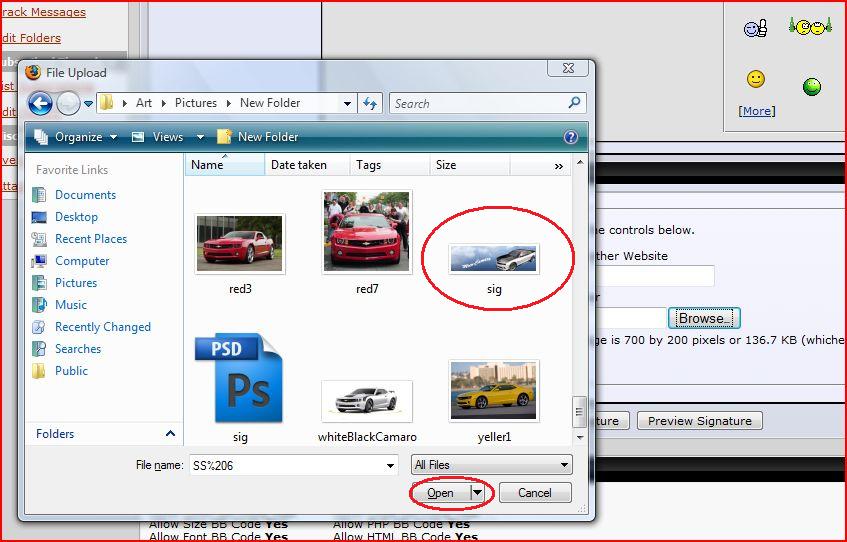 You should see the location of your file here now. Click Upload
You should see your picture show up here now. Click "Insert Signature Picture"
this should pop up in the Text box
add any other text you want here now
4)
Making your signature image a link
You want highlight the text: [SIGPIC][/SIGPIC] and click the button with the globe on it.
Attachment 393366
Next you want to press CTRL + V to paste the URL you copied earlier. Then press "OK"
Attachment 393367
You should see this in the text box (except it will be your URL instead of "Press CTRL + V to paste your URL" )
Attachment 393368

And last, click "save your Signature", same place where you uploaded.