2016-2018 Camaro SS 6th Gen aFe Control Sway Bar Set 440-402002-N $707.85
RPI Designs is the leader in 6th Generation Camaro aFe Suspension products.
Advanced FLOW engineering (aFe) was founded in 1999 and is headquartered in Corona, California, USA. They are a manufacturer of automotive cold air intake systems, performance air filters, fluid filters, intake manifolds turbochargers, programmers, throttle body spacers and exhaust systems. aFe facilities feature in-house CNC machining, CAD design, 3D printing, 3D scanning, fabrication, dyno testing, mandrel tube bending, flow and filtration testing.
Anyone can make a stiff sway bar, but at aFe Control we provide you with the perfect balance by pairing the proper size front and rear bars together to offer increased roll stiffness without upsetting the vehicle's balance and traction control system. Designed specifically for the Gen 6 chassis, the lightweight tubular swaybars will transform your Camaro's handling and inspire driving confidence.
Cornering will be flatter and neutral in any corner. Perfectly balanced, the 35mm, 2-way adjustable front, and 32mm 3 way adjustable rear bars are constructed from lightweight tubular steel and feature precision CNC machined, TIG welded bar ends for a perfect fit. The kit includes CNC machined 6061-T6 bushing brackets and polyurethane bushings.
For years of durability and great looks, the bars are powder-coated a special 2 stage tangerine orange. Perfectly Balanced, aFe Control sway bars will have your Camaro handling just as good at the track as it will around town.
aFe Control Suspension products are engineered and manufactured in our Corona, California manufacturing facility.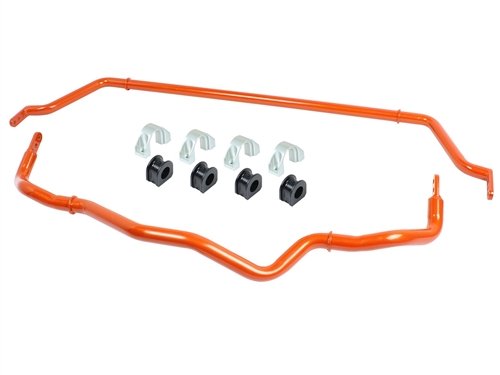 https://www.rpidesigns.com/shop/item...-440-402002-n/