Sure thing Darth:
Here is what our systems trap when spun in the labs centrifuge and then analyzed: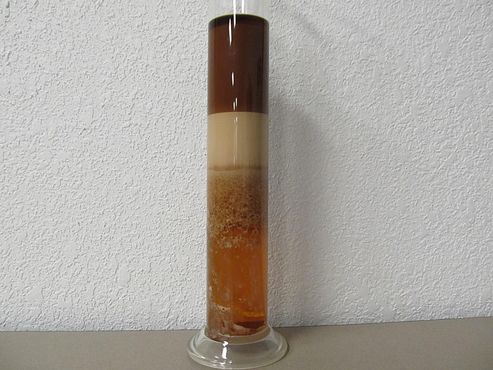 It contains 70% water and acids, they cannot be separated once mixed. Sulfuric is the most prevalent.
23% is raw unburnt fuel that otherwise is diluting your already far to thin of viscosity oil to barely able to protect if left in as the OEM system does with much. A simple test? Pull your dipstick right after shutdown and smell the gasoline present.
And 7% is actually oil saturated with abrasive particulate matter. Mainly carbon, soot, and ash.
So none of this is good in the oil or on the valves or in the combustion chamber where you only want air and fuel. Anything else reduces the energy released during combustion and also disrupts the flame front and burn pattern.
As for the small can. it is never what you see is trapped that impacts your engine, it is what is pulled through to still be ingested. You can conduct this simple test as well. Take a soda can, mayonnaise jar, piece of PVC pipe with caps, or any other similar sized container and add two fittings and install it in place of the small can and run the same miles the same driving style and it will trap as much or more than that. So that creates a "Placebo effect" of thinking your benefiting what your not. Of course any that you stop from being ingested is a plus, but it wont be enough to prevent intake valve coking or oil dilution and contamination. But try it yourselves. No need to blindly trust anyone. All of this is easy enough if someone takes the time to actually test and see.
Just as our ongoing "catchcan Challenge". We challenge anyone NOT affiliated with us or any other brand design to simply take this challenge:
Starting out with both cans clean of oil oil/gunk install our E2-X inline AFTER your can. Drive 1000 miles (2,000 is much more accurate) and empty both cans of all caught. That would involve opening the cans to make sure you got it all to be fair. Document what each caught in a measuring beaker or simple cooking measuring cup. Then clean both and reverse the order so all is fair and equal. Duplicate the same driving style as the first portion of the test. Drive the same miles. (take pictures of the odometer) and then drain each and document. There is no influence or games from either brand design as long as your honest and truly want to see first hand what happens.
All is done equally and as identical as you can. This will show you what gets past each can to caught by the other AFTER each can did its best to remove and contain the oil and other substances you do not want to ingest. So if in the first stage of the test say your preferred choice caught 3 oz's and the second can caught 4, you have proof that the second can is more effective at benefiting your engine. If it trapped 1 oz, you would know the first can is at least 30% ineffective. Following? Now if the second can caught 8 oz's it would be at least twice as effective, correct? Actually even more. but to simplify it lets just count the obvious that is right there that you yourself proved. What if when reversed, the first ban caught say 8oz's and the second can only caught a few droplets from the vapors that passed through....would that be a small disparity or a huge one?
And that is what we urge anyone that doubts ANY companies claims. See for yourself.
So,
2SS Capt
, you're an Engineer as well (Join SAE, International Society of Automotive Engineers, if you don't already belong....tons of data and discussions between Engineers on every subject you could imagine) would you be willing to conduct this test and share it in a dedicated thread so others can see each stage and the results? As I mentioned, it's not what you see a can catch that matters, it is what gets past to still be ingested. And as an Engineer you understand the work and expense to obtain a Patent on any invention now days, ours is a patented 95% effective. It would cost you nothing but your time, and it is an amazing learning experience. To learn more and go over more details as well as we can share much more on the "water" part of what is trapped (Water is the #1 byproducts released by the intense heat and pressure from the air charge, especially when below 60*F). Email us direct at:
Tech@EliteEngineeringUSA.com
I think we all could trust your unbiased results on this.
Cheers!
Elite Engineering USA's Engineering and Technical support team.