Pitch your perfect new Camaro ad or suggestions to GM. I make no guarantees that anyone will use your suggestions, but at least we can suggest inspiring material.
I want to make a case to GM for a more aggressive ad campaign. Give me something along the lines of "May the Best Car Win" for the Camaro. I understand that Chevrolet is a comprehensive brand, and it covers everything from the daily drivable Malibus and Equinoxes to hard-working Silverado HDs, but the Camaro buyer isn't buying because "Chevy runs deep." If it does run deep in them, they'll buy regardless of the ad campaign. Let's get those buyers who aren't just shopping Chevrolet.
I want a drag race. Show us Camaros beating Mustangs and Challengers. I also want a track race. I also want an open challenge for someone to fight the ZL1. Don't be conservative. Be tough! It's a Camaro!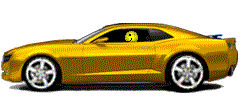 I want another ad showing neighbors washing their cars. Put one in a Genesis and the other in a Camaro LT. Make them argue about something—fuel economy, performance, something. As they're arguing, have someone on the sidewalk go right past the Genesis for the Camaro LT. Let that leave the Genesis driver speechless. This is much more conservative, and I can actually see GM doing something like this.
Give me something ridiculous. I want people to talk about the viral, crazy TV ad that's too intense for the Malibu driver. You don't want Malibu drivers in Camaros anyway. You want sports car drivers. Whatever you do, don't give me that low-pitched voice actor talking about features of the car. I'm
sick
of the typical shots where someone says, "Brembo brakes; independent rear suspension; 400 horsepower—the all new Camaro. Chevy runs deep."

Don't give me that garbage. It's boring.
We've all changed the channel by the time you've finished the second syllable—a great waste of advertising dollars.
Be bold.