In order to be officially listed, you will need to post a scanned timeslip or Jpeg documenting your run directley to Camaro 6. If you have a problem posting your time slip send me a PM and I will help you get it posted.
This is not a thread for extra conversation. This thread is for posting of 1/4 mile times and time slips ONLY!! There is a 1/4 mile discussion thread if you want to bench race.
As owners will quickly discover, 2016 Camaro's are very fast cars that require driver skill and experience to coax out all of the performance potential built-in by the engineering and production arms.
The Fast List will have numerous sub-lists, as submissions warrant:
Bone-Stock on Stock Tires. This means completely stock with no performance changes whatsoever; must have stock tires, stock exhaust, stock airpath, stock "untuned" computer (ECU/PCM), etc.
Bolt-Ons without Internal Engine Modification (e.g. modified airpath, headers, PCM-tune, aftermarket clutch, non-stock rear gears, skinny front tires)
Internal Engine Mods plus Bolt-Ons (e.g. stock displacement with bolt-ons plus heads and/or cam)
Power Adders (Nitrous, Turbo, Supercharger)
Rules:
In posting submissions for inclusion on the list, please follow these simple rules.
#1. Post the details of your quarter-mile pass using this template: (cut and paste)
Tires used on the pass:
Performance Mods (if any):
Category submitted for: Please List the Category or Category #
R/T..........
60'.............
330'...........
660'...........
660' mph...
1000'..........
1320'..........
1320' mph…
Name of the track:
Date of pass:
Weather conditions: Include Density Altitude if known. (Optional not required)
http://www.dragtimes.com/da-density-...calculator.php
#2. Times that may qualify for the top-30 in each category require posting of an image of the time slip. If you lack the ability to post an image, ask for help.
#3. Track times will not be corrected for weather or track altitude.
#4. All members are invited to submit his/her times on this thread. The top 30 in each category will be included in the Fast List. Only one pass per member will be included on any given Fast List category.
#5. In the event two members submit a 1320' ET identical to the thousandths of a second, the tiebreaker is the higher 1320' mph.
#6 All time slips to be directly uploaded to Camaro 6 web site and not a third party photo storage service.
***** Rule #2. "time slip" means full time slip. Must include date/time of the pass and includes identification of the track issuing the slip.*******
Below is a example of what the posted time slip should appear like. The only exception to this rule are for those who run at tracks that cut the time slip in half to save paper. Updates to the fast list's will be IGNORED if the time slip is not POSTED correctly. If you don't have a high lighter handy simply circle the info with a pen. THX Merc
Modification Terms
1. Cam - Aftermarket Camshaft
2. Heads - Aftermarket Heads or Ported Factory Heads
3. CAI - Cold Air Intake
4. PTB - Ported Throttle Body
5. PI - Ported Intake
6. LT - Long Tube Headers
7. UDP- under drive pully
8. Shorties - Short Length Headers
9. Exhaust - Includes any exhaust mods (muffler delete, axle back, x pipe, catbacks, etc)
10. Gears - Non Factory Gears
11. Converter - Non Factory Stall Converter
12. DRs - Street Legal Drag Racing Tires
13. Skinnies - Performance Racing Wheels
14. Slicks - Performance Racing Drag Tires (non street legal tires)
15. Tune - Non Factory Tuning
16. W/R - Weight Reduction (removing parts to decreased weight and increase performance).
Danhr is now asissting in maintaining the V8 Fast list.
Top 30 in each category.
You can also click on the link to view the entire list.
6th Gen Camaro, Official 1/4 Mile V8 Mile Fast Lists:
(1) BONE STOCK 2016+ CAMARO SS LT-1 M6:
https://docs.google.com/spreadsheets...it?usp=sharing
(2) BONE STOCK 2016+ CAMARO SS LT-1 A8:
https://docs.google.com/spreadsheets...it?usp=sharing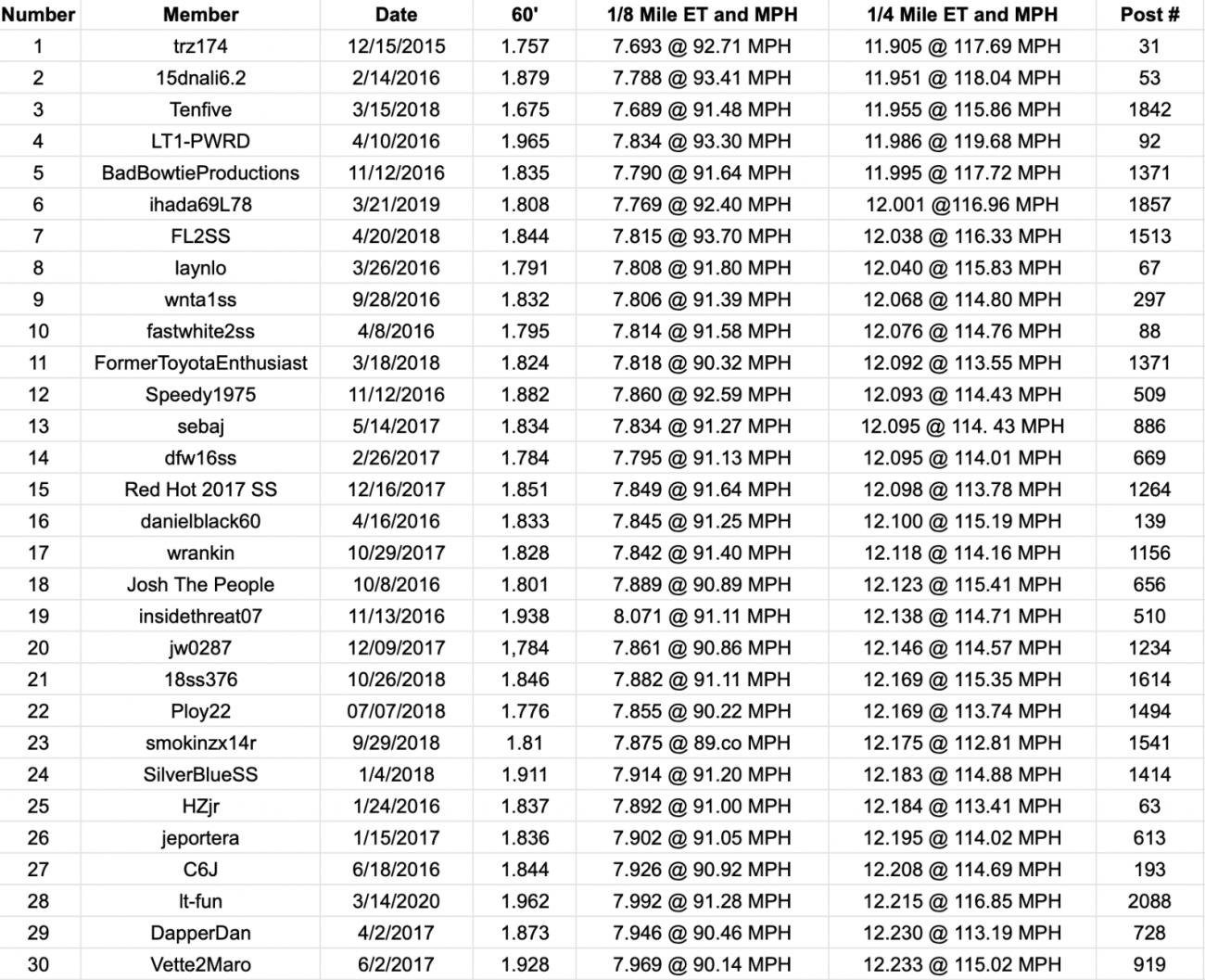 (3) Camaro SS 2016+ LT-1 Bolt On's NO Internal Mod's (Stock Displacement)
https://docs.google.com/spreadsheets...it?usp=sharing
(4) Camaro SS 2016+ LT-1 Bolt On's With Internal Mod's (Stock Displacement)
https://docs.google.com/spreadsheets...it?usp=sharing
(5) Camaro SS 2016+ LT1 Power Adders Stock Displacement (IRS Street Registered)
https://docs.google.com/spreadsheets...it?usp=sharing
(6) Camaro SS 2016+ LT1 Power Adders Non Stock Displacement (IRS Street Rgistered)
https://docs.google.com/spreadsheets...it?usp=sharing
(7) Camaro 2017+ LT4 ZL1 Bone Stock
https://docs.google.com/spreadsheets...it?usp=sharing
(8) Camaro 2017+ LT4 ZL1 Bolt On's No Internal Mod's (Stock Displacement)
https://docs.google.com/spreadsheets...it?usp=sharing
* (Blower Change)
(9) Camaro 2017+ LT4 ZL1 Bolt On's With Internal Mods (Stock Displacement)
https://docs.google.com/spreadsheets...it?usp=sharing
* (Blower Change)
(10) Camaro 2017+ LT1 1LE Bone Stock
https://docs.google.com/spreadsheets...it?usp=sharing
(11) Camaro 2017+ LT1 ILE Bolt On's No Internal Mods (Stock Displacement)
https://docs.google.com/spreadsheets...it?usp=sharing
(12) Camaro 2017+ LT1 1LE Bolt On's Wtth Internals Mods (Stock Displacement)
https://docs.google.com/spreadsheets...it?usp=sharing