2017 Camaro ZL1: A Visceral Redesign
by: Joe Bella | March 16, 2016
This is what we've all been waiting for: the return of a legendary nameplate in the sixth generation of Camaro with new equipment, a new look, and new talents. The levels of performance and comfort this new car is capable of will raise the bar for the segment to the stratosphere.
Chevrolet had a surprise treat for us media people at the 2.0L turbo and convertible drive event in Pahrump, Nevada. They revealed the new King of Camaros, the 2017 ZL1, and let us get up close and personal with it, as well as experience a hot lap around the Spring Mountain Motorsport's Ranch. Nobody was quite expecting this, and I regret that we were unable to share this with you earlier. But Chevrolet was so tight-lipped about it, we didn't even get company photography materials until this morning!
EQUIPMENT
Let's start with the facts. The engineers and designers working on the new ZL1 have revisited the successful formula from Gen 5 that we have come to know and love; just on an entirely different level.
Power is provided by the new supercharged 6.2L V8, the LT4. We're used to seeing this robust power plant serve in the C7 Z06, and the good news is that the Camaro team has said the power output in the ZL1 is "estimated at 640hp/640tq"…history would suggest that we can expect more when the final numbers are released.
This nuclear amount of power is sent to the gorgeous new lightweight, 20" forged aluminum wheels by either a standard 6-speed manual transmission, or an available all-new 10-speed automatic. The 10-speed auto features TAPshift, and represents General Motors' first use of the new transmission. Shifts are described as "lightning" fast, and there will be more information about this transmission coming soon. The six speed manual transmission benefits from active rev match and revised, track-oriented gear ratios that means there's only one overdrive gear.
Magnetic Ride Control makes a return appearance in the suspension system, and we're told the calibration is further revised in this application. Also new is a custom launch control feature within the Performance Traction Management system. An electronic differential, Goodyear Eagle F1: Supercar tires (285 f, 305 r), and gargantuan 15.35" 6-piston Brembo front brakes round out the performance hardware featured on this car.
And all of that equipment is bolted to the most recent version of the world-beating Alpha chassis, which translates into a ZL1 that is more than 200 lbs lighter, with at least 60 more horsepower and 80 more lbs. ft. of torque than its predecessor.
No pricing or ordering details have been released. But we're expecting that past ZL1 customers should be able to afford this new car. There's a lot of expensive equipment on this car, but they have no intentions of price gouging just because they can.
EXTERIOR
The design is all function over form. Everything that is changed about the exterior design of the ZL1 either provides more downforce, reduced lift, reduced drag, or increased cooling airflow. In many cases, they've managed to achieve "all of the above". This model alone spent over 100 hours in the Wind Tunnel to perfect the design, by dedicated engineers and designers willing to take the "night shift" and maximize the amount of time spent in the tunnel. And the result is an appearance that looks utterly furious; ready to rip the face off of anything that dares to get in the way.
The mammoth front grille uses a huge grate pattern that allows for air to flow both under and over the federally mandated bumper bar. The upper grille features the familiar "Flowtie" design first debuted on the 2014 Z/28; a hollowed out version of the Chevrolet bowtie to increase cooling airflow. The auxiliary radiators are now fed by the redesigned lower outboard intakes. Camaro team has done away with the "air curtain" openings for the ZL1, instead choosing to utilize all available airflow to cool the car's systems. The openings are so big, that you can fit your entire forearm in there and move it about freely behind the fascia. All of these openings work together to feed 11 heat exchangers; all standard equipment that helps makes the ZL1 fully track ready without the need to purchase additional cooling packages like some competitors.
Also worth noting is that the front fenders are wider than the standard car, accommodating the big front wheels and tires, and providing an aerodynamic benefit to the car when coupled to the new front fascia. Speaking of wheels, they're stunning in person; finished in a deep, dark, rich grey color. To me, they appear like chiseled, sharper versions of the Z06's wheels.
The lower front splitter is very aggressive. It is integrated into the front fascia's design, and slots somewhere in between the Gen5 ZL1's splitter, and the Gen5 Z/28's piece. The lower side skirts that are so sharp and aggressive looking; you might worry about lacerating your own ankles getting in and out of it. And the rear diffuser - which wraps around standard (and trumpet-sized) dual-mode exhaust tips - has been redesigned like the rest of the cars' underside to maximize high speed airflow. All of the aerodynamic pieces, including the front grille have been finished in a metallic black paint, similar to Mosaic Black, adding an upscale touch.
The new hood has been almost entirely resurfaced, and looks like the engine is trying to go supernova beneath. It utilizes a giant heat extractor similar to what you might see on a LeMans style car (just not nearly as deep), and the hood insert/heat extractor panel is made of carbon fiber, finished in the same metallic black paint as the rest of the exterior accents. It reminds me of the old design, just much more aggressive, three-dimensional, and utilizing much more real estate on the hood.
Finally, the spoiler is unlike anything I've seen on a General Motors car before; it overhangs the sides of the vehicle by about an inch or so on both sides. It is painted in body color, and while some may not like the look...it, too, was developed in the wind tunnel for aerodynamic benefits. It appears to be mounted in the same areas as the SS spoiler.
INTERIOR
The interior of the car is gorgeous, and makes you feel like you're sitting inside a 100,000-dollar car. Every panel that was leather-wrapped in the 2LT/2SS models is now covered in rich microfiber suede, with red accent stitching. The door insert, arm rests, knee bolsters, steering wheel, shifter, and seating surfaces. Color combination options are limited to black with red accents…just like last generation. The car is loaded with all the standard equipment you've come to be familiar with on 2LT and 2SS models, including HUD, memory seats, LED spectrum lighting, electro-chromatic mirrors, side blind zone alert, Bose stereo, etc. The new performance data recorder is optional equipment, and utilizes an SD card slot down by the left knee under the steering wheel.
Also standard in the interior are ZL1-specific Recaro racing seats, utilizing the same revised design recently shown on the 1LE. In between each "pocket" of these new seats is a bold red accent stitched into the cloth.
Past ZL1 owners will note their clutch pedals being a little on the heavy side compared to the rest of the car lineups. I was able to get some seat time (on stage, only), and I'm pleased to report that the new ZL1's clutch is easy to modulate, and only requires about 25 lbs of pressure, roughly the same as the 2016 SS's clutch.
But wait! There's one more thing…the seatbelts are RED! Yes! Like Porsche, Aston Martin, and [insert your favorite European Sport Luxury brand], the ZL1 comes with bright red seatbelts. Make no mistake that this car means to go fast. Those belts must add at least 10hp, and .1 Gs!
ON THE ROAD
Holy S***! This car is so freaking fast that you barely have time to process what your body is feeling. You point and shoot, and God help whatever is in your way, because you're going to go right through it at 120mph. Whew…My apologies, let me try and compose myself.
The power to weight figure for the new ZL1 is responsible for this outrageous acceleration. I don't think anything short of a Z06 will compare. We were only allowed one hot lap, because that was all that time permitted as we were racing the sunset.
While they finished their presentations up on stage, they put a slide up on the screen that read "Who wants a hot lap?", and one of the panels that formed the room's design began to swing upwards (nobody expected that), and just beyond that panel were two ZL1 prototypes revving, and barking angrily at our shocked faces. Naturally, I was giggling like a school boy who just saw a girl's skirt fly up in the wind.
Our drivers were either Aaron Link; Camaro Lead Development Engineer; Bill Wise, Camaro development engineer; Mark Reuss, General Motors Executive Vice President, and Dan Ammann, the President of General Motors. Aaron Link and Bill Wise are both familiar hot shoes that have been to the Nurburgring and back…but what surprised the hell out of me was that two of the most influential people in General Motor's leadership have also driven the Green Hell, and weren't just standing around in suits, but piloting hot laps for media people! If ever there was a doubt in your mind that General Motors takes performance cars seriously…let those doubts die a quick death, now.
I met Aaron in the cockpit of a manual transmission ZL1 prototype…the same one that bears the orange "hash marks" from the Nurburgring spy photos, in fact…and got strapped into the seat with a 5 point harness, full-face helmet, and a Hans safety device. I think it was about at that point that I realized how stupid-fast this car might be. It wasn't until I was fully belted in that I realized it had become so dark, we could only see what the headlights illuminated.
After a golf cart took a quick sweep around the track to check for any debris in the dark, he took off. The engine put me right back into my seat, and I couldn't move. The grip and acceleration was literally breath taking, and Aaron was banging off quick shifts with the 6 speed. The roar of the engine filled the interior (I didn't catch any blower whine), and because it was so dark out, I couldn't keep account of where we were on the track – it felt like light speed or something.
Then we came upon the first corner, and Aaron slammed on the brakes; the ZL1 pitched forward only slightly as the Magnetic shocks and stiffer springs compensated for the dive. Speed was ripped away like [what I imagine it would be like] we landed on an aircraft carrier, just before he turned the wheel to catch the apex. The car didn't roll, so much as rotated laterally into the corner…and while the tires sounded a bit fussy, they weren't even to the point of screeching, yet. A good racer will tell you to let the tires "talk to you", and ours were barely whispering. The lateral grip was phenomenal.
Despite having more weight over the nose, the ZL1 bit into the turn like a vicious animal, and tore it to shreds. Each time we exited a corner, the ZL1 gripped hard and catapulted out of the bend with blistering speed. The corners felt so close together I thought we might be going through esses the way Aaron was tossing the car violently from the left to the right and back left again. To be honest, we might have been, it was so dark, and we were going so fast, I couldn't know for sure. But the whole time it seemed like nothing he could do would upset the balance of this weapon they've created.
As we made it about halfway through the lap, I caught my breath and the only words - I didn't mind being recorded on camera - which I could come up with was "IT WON'T LET GO!!!" (You can find a video of my ride around the track, below)
Our final turn exited onto a straight that the car demonstrated, once again, it's phenomenal power, and then a quick braking zone – that caused my eyes to momentarily pop out of my sockets. I'll bring up this braking zone again in a moment…It was all over so quickly, and the experience was so visceral, as they had said, it almost felt like it didn't happen at all.
After the lap, I sought out Aaron and asked about the balance and feel of the car. It's much different from the passenger's perspective than the driver's. He said, "There's obviously more weight over the nose, where you don't want it. But you'd never know it. The car is very well balanced." They are able to tune the PTM system, Mag Ride, and the ELSD together to help the car rotate and enter a corner, with even better results than the Z/28 and its helical differential.
I watched many laps over the course of the evening and I have three observations to make.
1) The automatic shifts are truly "lightning fast". They've tuned the engine to cut spark briefly during shifts, which results in a furious backfire "bang" on each press of the paddle shifter. The car doesn't buck or twitch while shifting…it just accelerates away like a rocket. Al O. tried to explain the speed to me this way: "Half of the time spent shifting gears is actually the driver moving his/her fingers to initiate the shift. This transmission is one of my favorite parts of the new ZL1."
2) The brakes are tremendous. Similar to the equipment and scale as used on the CTS-V, they clamp down hard and just don't let go, no matter what the heat levels…Remember that braking zone I mentioned at the end of the lap? After a dozen laps or so, each ZL1 began to light the rotors up red. And they would stay red, on the taxi back towards us for a rider switch, and as the car accelerated away from us a minute or so later. I asked if there was any fade, and was told "no".
3) Finally, I'm sure there are a few people out there skeptical of the cooling problems that have arisen in the Z06 camp. I was one, and I brought it up a couple times. The response I got was "we're all going to be fine." These ZL1's were performing one hot lap at a time, pushing 9/10s, then coming back into the pits where they'd sit and stew in their own heat (with no airflow – 0 mph) for a couple minutes as riders switched. Then they'd go back out again. The only time they needed to stop was to fill up. These laps went on, without a pause, for about 2 hours. I was extremely impressed. While we didn't get to put any data recording devices on the cars to know for sure…I can share that my lap was one of the last, and the cars never entered limp mode and never slowed down.
I'll end with a paragraph out of Chevrolet's press release:
"The Camaro ZL1 is designed to excel at everything," said Mark Reuss, executive vice president of Global Product Development. "It's a 2+2 coupe offering incredible performance – acceleration, handling and braking – with the highest levels of technology and perfect chassis damping, making it suitable for everyday driving. It will compare well to any sports coupe, at any price, and in any setting."
Damn Straight!
The ZL1 features a supercharged LT4 6.2L V-8 Small Block engine, with intake and exhaust systems tailored for Camaro. It is rated at an estimated 640 horsepower (477 kW) and 640 lb-ft of torque (868 Nm), backed by a standard six-speed manual transmission or all-new, available paddle-shift 10-speed automatic. The 10-speed automatic has 7.39 overall ratio for smaller steps between gears. It enables the LT4 engine to remain at optimal rpm levels during acceleration, particularly when exiting corners, for quicker laps and lightning-quick responses on both up- and down-shifts.
The 2017 Camaro ZL1 is poised to challenge the most advanced sports coupes in the world in any measure – with unprecedented levels of technology, refinement, track capability and straight-line acceleration. A cohesive suite of performance technologies tailors ZL1's performance, featuring an updated Magnetic Ride suspension, Performance Traction Management, electronic limited-slip differential, Custom Launch Control and Driver Mode Selector. With a stronger power-to-weight ratio than its predecessor, it weighs 200 pounds less, and offers approximately 60 more horsepower and 80 more pound-feet of torque.
The driver-focused interior of the Camaro ZL1 features standard Recaro front seats, along with a sueded flat-bottom steering wheel and shift knob. Chevrolet's Performance Data Recorder is available, and allows drivers to record, share and analyze driving experiences on and off the track.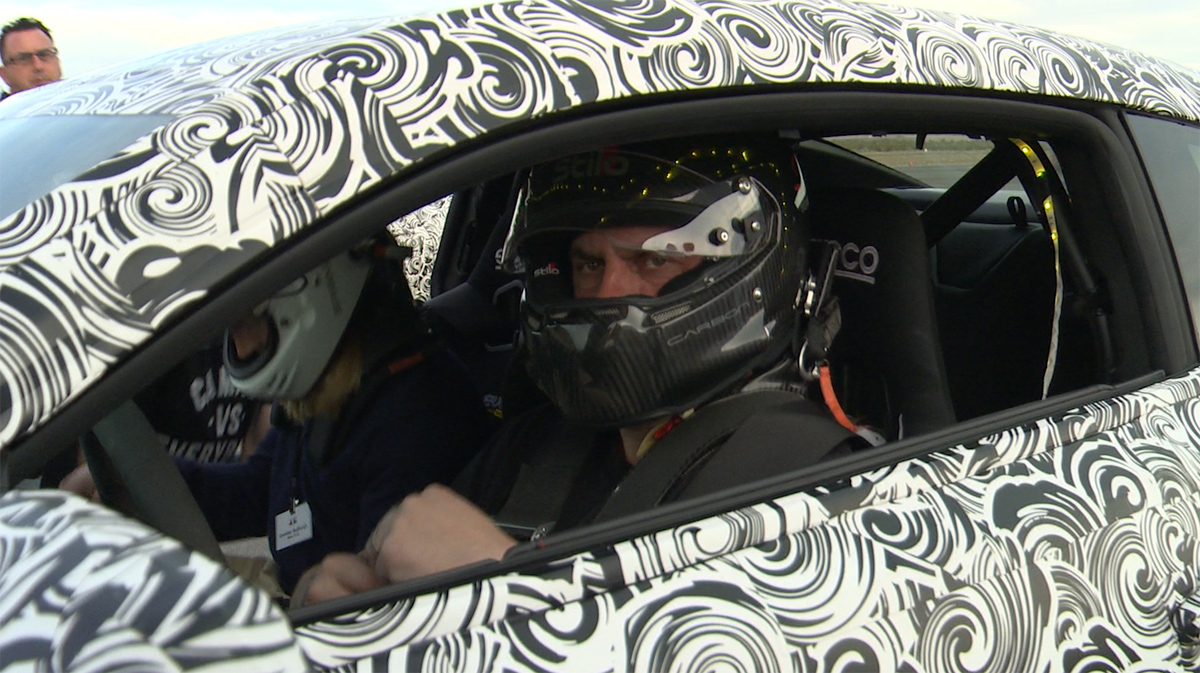 Mark Reuss, General Motors Executive Vice President; straps into the 2017 Camaro ZL1 prototype at Spring Mountain Motorsports Ranch.
Dan Ammann, General Motors President; straps into the 2017 Camaro ZL1 prototype at Spring Mountain Motorsports Ranch.