Quote:
Originally Posted by
Sesiom Summers

did anyone remember this?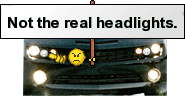 I bet those are just some light bulbs they put there...
I agree. along with those tail lights..
As far as that front grill. I believe that its being covered up. To much to still tell yet, weather fake panels are being put in place. Remember when the black camo was on that we all thought the left and right hood extractors? from here, doesn't appear to be the case.
And again, no video. next time guy, bring a friend along!