2016 Camaro Custom Fitted Seat Covers by Coverking
Photos show 2015 Camaro - 2016 Camaro photos coming soon.
These Custom Fit Seat Covers for your 2016 Camaro are very affordable and take less than 30 minutes to install. They are made from the highest quality materials and fit so well that you'd think they were brand new seats. These are NOT cheap, generic covers that you'll find in auto parts stores. Logos as shown in photo are not available.
Designed to Cover, not Hinder
Today's vehicle seats are designed with features and functions such as integrated airbags and seatbelts, the ability to fold flat and even be removed, even electric massage. Coverking takes extra effort to design Custom Seat Covers which allow the original seat functions.
Materials Available
•Premium Leatherette: Leatherette is a high quality vinyl with a soft, leather-like feel and look. A tough material which will stand up to children and pets, yet clean up easily with a wet sponge. The same material adds a luxurious leather look to any vehicle. Leatherette is available in both solid and two tone color combinations.
•CR-Grade Neoprene: There are several grades of Neoprene in a wide range of prices. The top grade is CR, which is used in surfing wet suits. Unfortunately, many companies use a low grade neoprene which is also used for computer mouse pads. CR-Grade Neoprene provides the best fit along with a great, comfortable feel. All Neoprene custom fit seat covers are made using CR-Grade Neoprene. Available in both solid or two-tone combinations.
•Velour: Velour is the same high quality material found in many automotive interiors. This material has been treated with extra U.V. inhibitors to help prevent fading and shrinking. Velour is extra plush and available in several popular colors. All Velour seat covers are sold in attractive solid color combinations.
CH10003 CH Camaro (F), 50/50 bucket, w/adjust & none remove headrest, w/side airbag, w/power dr & manual pass seat 2016 2017
CH10004 CH Camaro (F), 50/50 bucket, w/adjustable non-removable headrest, w/side airbag, w/power driver & pass seat 2016 2017
CHA55 CH Camaro COUPE,(F) 50.50 Bucket seat w/ removable headrest, w/ side airbag, w/ power Driver and Manual Passen 2016 2017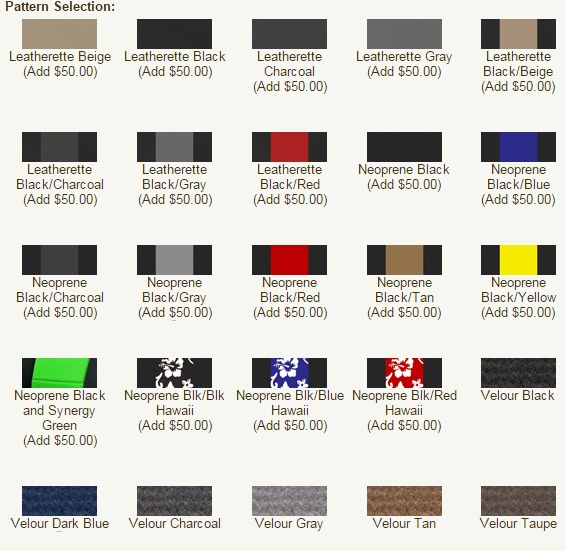 Item # CO2101

Website Link : http://www.rpidesigns.com/shop/item....-by-coverking/